We do love a bespoke kitchen design and build here at No.54 and we're absolutely thrilled to be designing and making this one in a brand-new extension for our Kidderminster clients.
As for so many of us, the kitchen being the heart of the home is the primary focus of this brief. While not necessarily big cooks, a practical, functional space for a young family is an absolute must, with the ability to flex and adjust for extended family and social gatherings.
We're lucky to have been engaged early doors on this total house transformation. While the ultimate dimensions were set, what we did within them were not. Working off plan is always good fun as it gives us a complete blank canvas to design the ultimate space for our clients, not to mention the best possible opportunity to ensure utilities and features are exactly where we want them.
Space Planning and Layout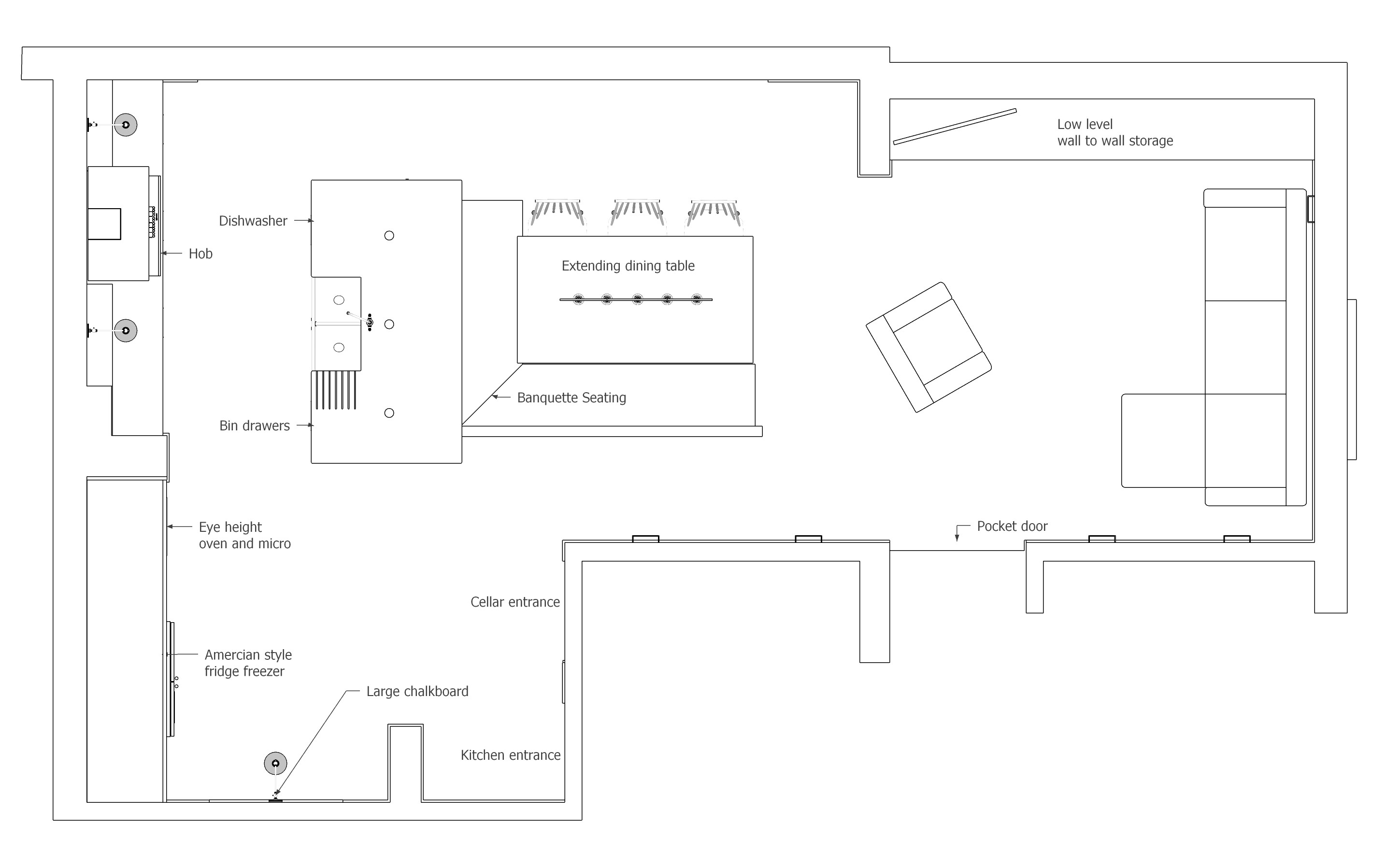 Approved Floor Plans for Bespoke Kitchen and Dining Space
A central island was high up on the wish list for our clients, not necessarily for seating, but more as a social viewpoint into the family area. We paired it with bespoke designed integrated bench seating to maximise the space and create a cosy, contained environment that can be easily extended. Placing the sink and dishwasher within the island meant cooking smells were relegated to the back wall for external extraction.
This entire area is kept light and bright with no upper cabinetry, just simple shelving for displaying smaller kitchen accessories and decorative items.
A large wall of units in the darker section of the space houses an eye level oven, with separate microwave, a large American style fridge freezer and pull-out larder units, all still within the golden triangle* but freeing up the primary area of the workspace to a more open and engaging design within the overall scheme.
*the relationship between the key functions of cooking, cleaning and refrigeration.
Concepts and Designs
Our clients are very keen on having an uncluttered yet homely space, with rustic touches combined with more contemporary finishes. A shaker style kitchen being very high on their list of must haves.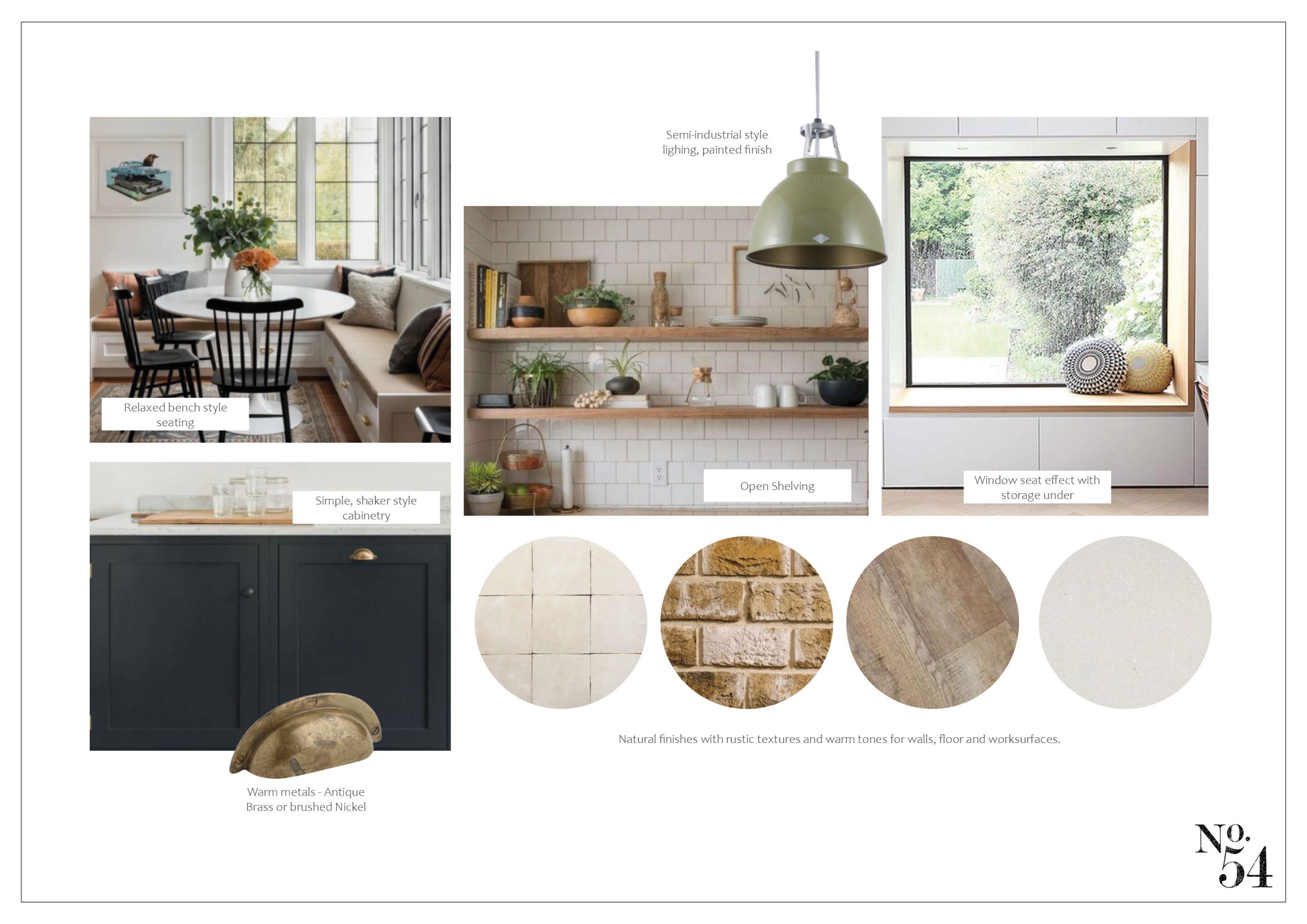 Kitchen design concepts, traditional styles with contemporary finishes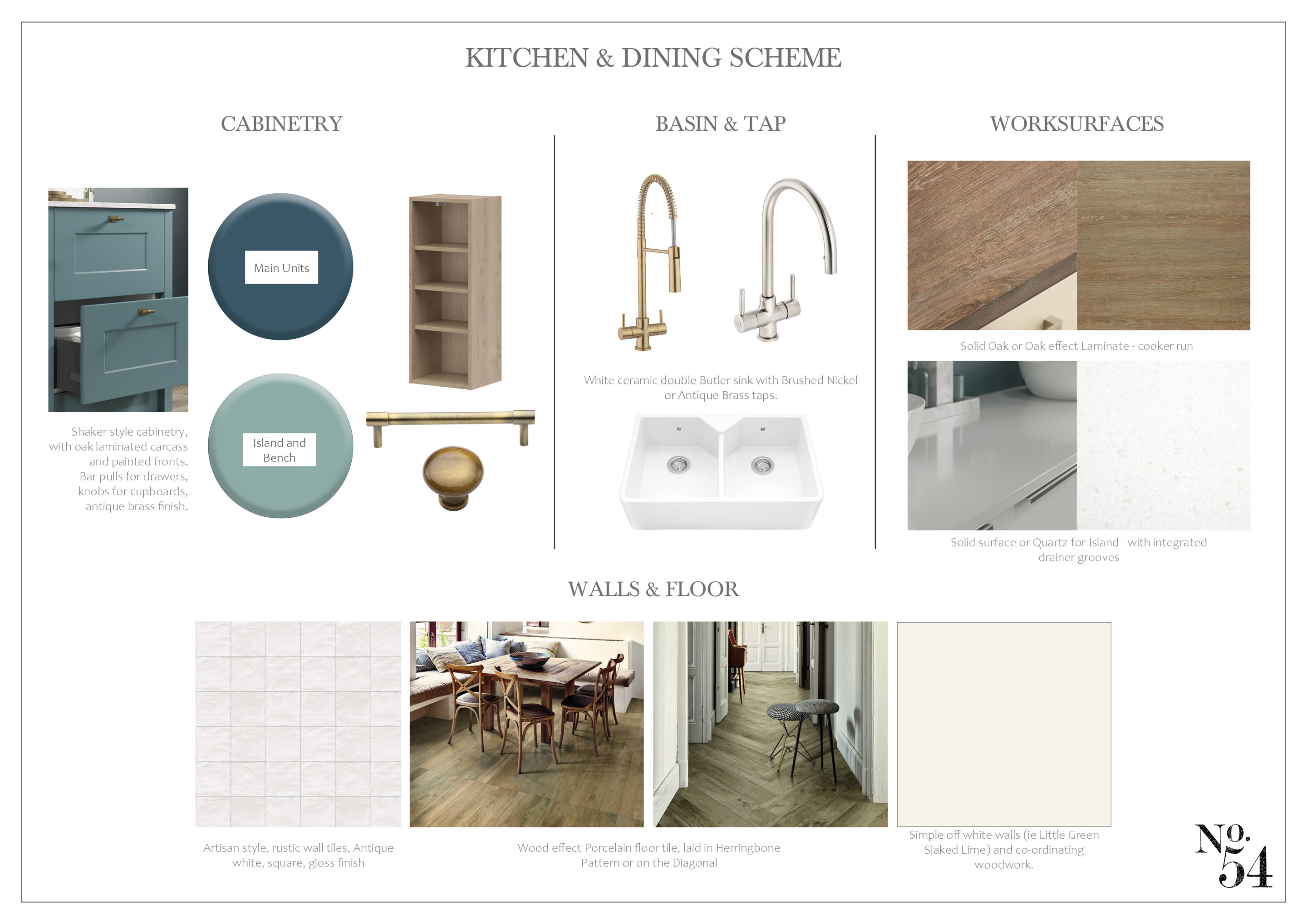 The material selections and colour palette
Rich blue hues from Farrow & Ball have been chosen for the cabinetry, with Stiffkey Blue on the back wall and the bespoke island bench seating in a lighter, complementary Dix Blue. Patinated Brass will feature across taps, lighting and hardware, while textured, natural feels will flow through the tiles, flooring and worktops, all against a neutral backdrop of Little Greene's Slaked Lime.
We're super excited about this project as it's the start of a very exciting journey for our clients and their complete home transformation.
Watch this space for the full reveal, or check us out on Instagram.