"I'd like a kitchen that doesn't look like a kitchen. And I'd like to be able to incorporate this 3m church pew. And I've been to loads of kitchen companies, high end, high street, and none of them have what I want, which reflects the heritage of the house, but looks clean and contemporary".
So, no pressure then?
Not at all, it's just the kind of brief we leap at here at No.54 Interiors, a real chance to grease the creative wheels and produce something that's unique and totally personalised to our clients' needs.
Introducing the 'Kitchen that's not a Kitchen'
Ok, so it's never going to not completely be a kitchen, but we've done everything we can to make a space that's both entirely functional, and that can almost be swept away when the showtime is over.
The whole room, which has been created by knocking the existing kitchen and dining room of this Edwardian property together, will be swathed in light by the addition of a new floor to ceiling sliding door and picture window.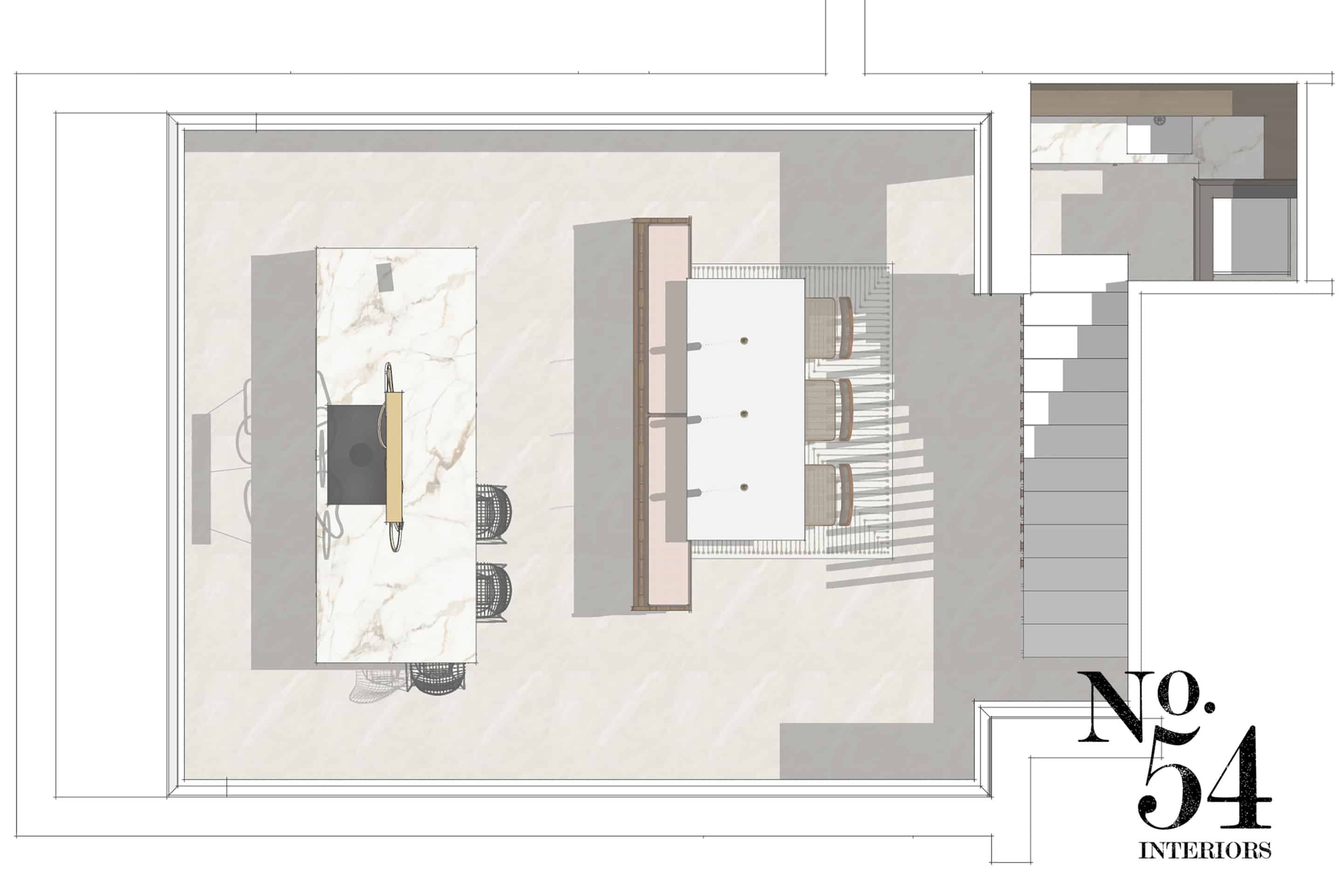 The new floorplan created by knocking two rooms together
Layout and Functionality
We always start with layout, function and practicality. Concealment was the no.1 requirement for this kitchen, so we're creating a very large niche in which to drop the vast amount of practical components, which will be hidden behind super-sized bi-folding pocket doors. Sink, dishwasher, fridge and food stuffs all tucked away, plus a coffee (aka booze) station.
A night time render of the statement kitchen behind the wall of doors
Statement Features and Materials
But concealed doesn't mean any less beautiful. This is a wow kitchen – hidden or not. Behind sleek textured oak veneered doors, a brushed gold handleless kitchen will be revealed. With solid slab doors spray finished to match the island (more on that in a moment) and a stunning porcelain worktop and splashback in a gold veined Calcutta marble effect.
There will be an Island, of course there will; you can't sit and drink with friends behind closed doors. But this one will feel more like a piece of traditional furniture. Panelling that runs seamlessly across doors and drawer fronts like picture frames, in a deep dark earthy cherry brown, with not a handle in sight. Again, topped with a Calcutta gold porcelain broken only by the beautifully designed Bora venting hob, keeping the whole surface clean and minimal and leaving space for a stunning light feature.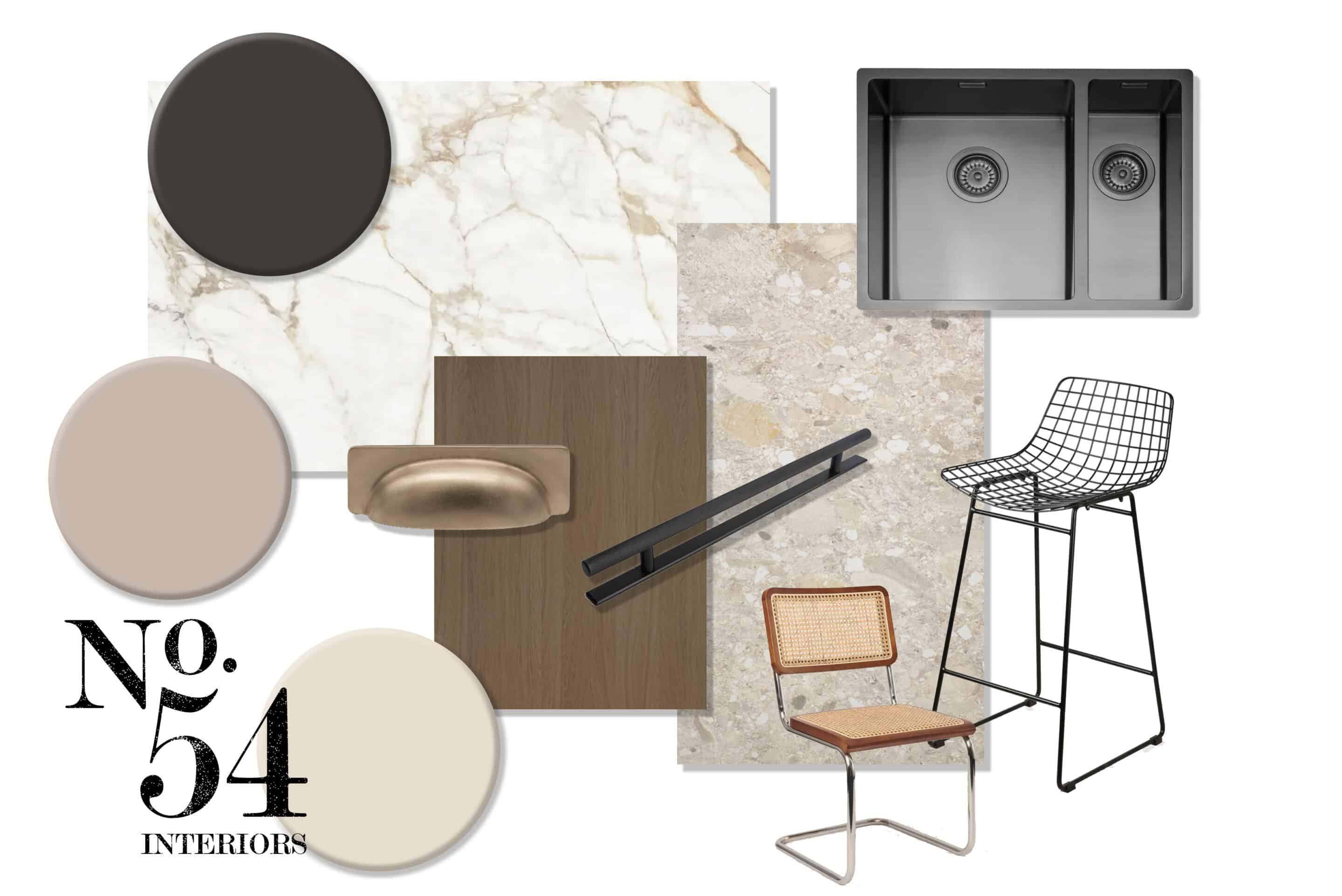 An earthy palette. Modern meets traditional.
Integrating Pre-loved Pieces
But what of the Church pew? Well that, good friends, becomes one side of the dining seating, creating a perfect break in the space between kitchen and dining. A super way to add a meaningful bit of history into a completely new scheme.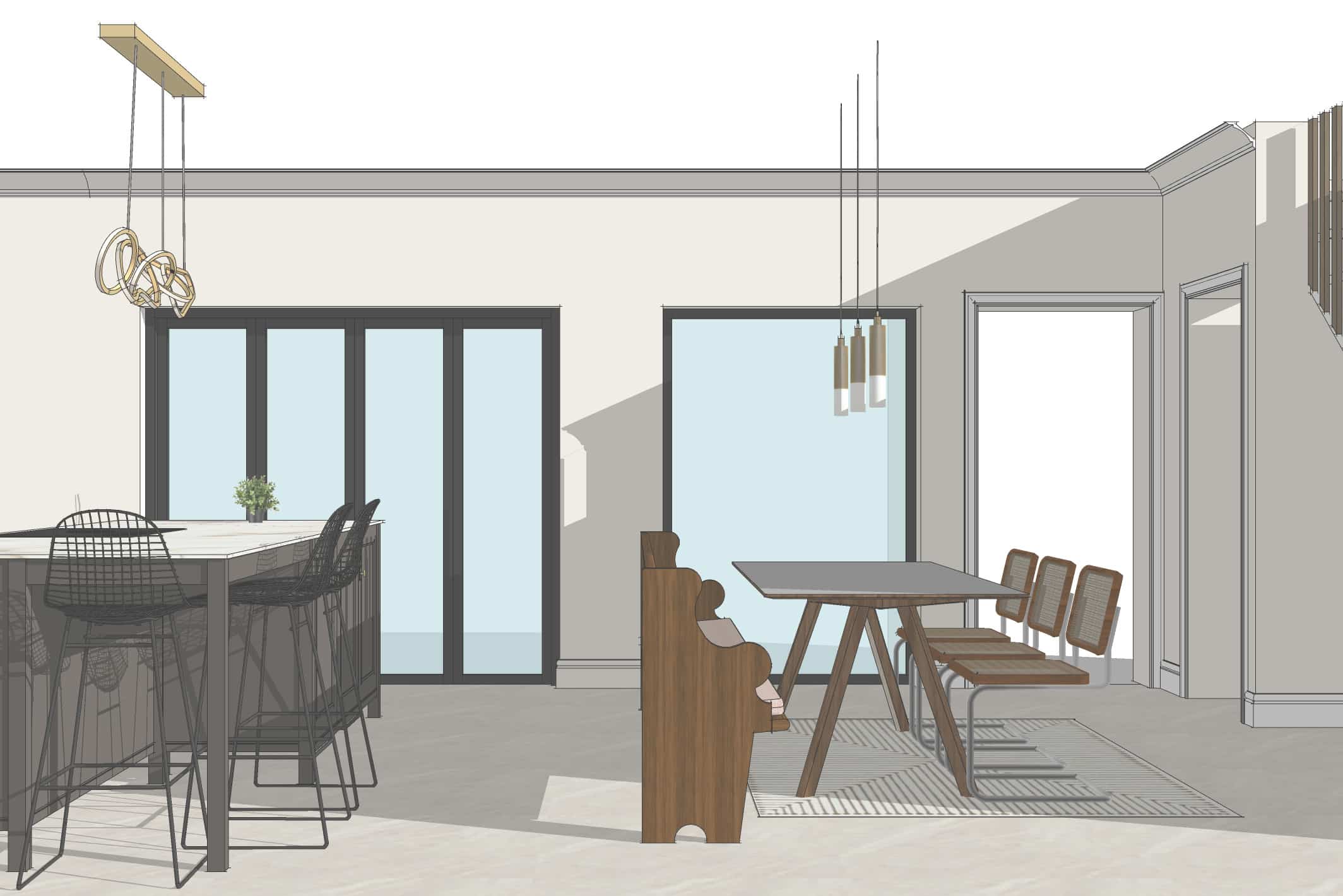 The old church pew, re-purposed for modern living
We've had a lengthy process of detailing and fine-tuning to make sure every little element is perfect for the client, and have produced specifications for lighting, flooring & decorative finishes. As we write, this kitchen (and accompanying Utility room) has now gone into production, products and materials are winging their way to us and the building works are motoring along.
We absolutely can't wait to show you the finished space, but in the meantime, check out our social feeds for updates on progress.
If you're looking for help and inspiration on your own projects, find out more about our services and how we can help you here.