Is custom cabinetry at the top of your home transformation project?
Having a home that reflects our personality and how we live in it has become an increasingly high priority as we've spent so much more time looking at our own four walls. This often means tailored colour choices, well-selected materials and patterns alongside carefully curated artwork and displays of treasures that celebrate our stories and evoke positive feelings.
But what about the more functional aspects of our home? Our storage, our shelving, our cabinets. A wardrobe is a wardrobe, right? Wrong. Custom cabinetry can be a game-changer too, bringing personality and personalisation into the more overlooked aspects of a home.
Here are just a few ideas to get you thinking about how you could personalise your own home with bespoke design.
1. Making the most of awkward spaces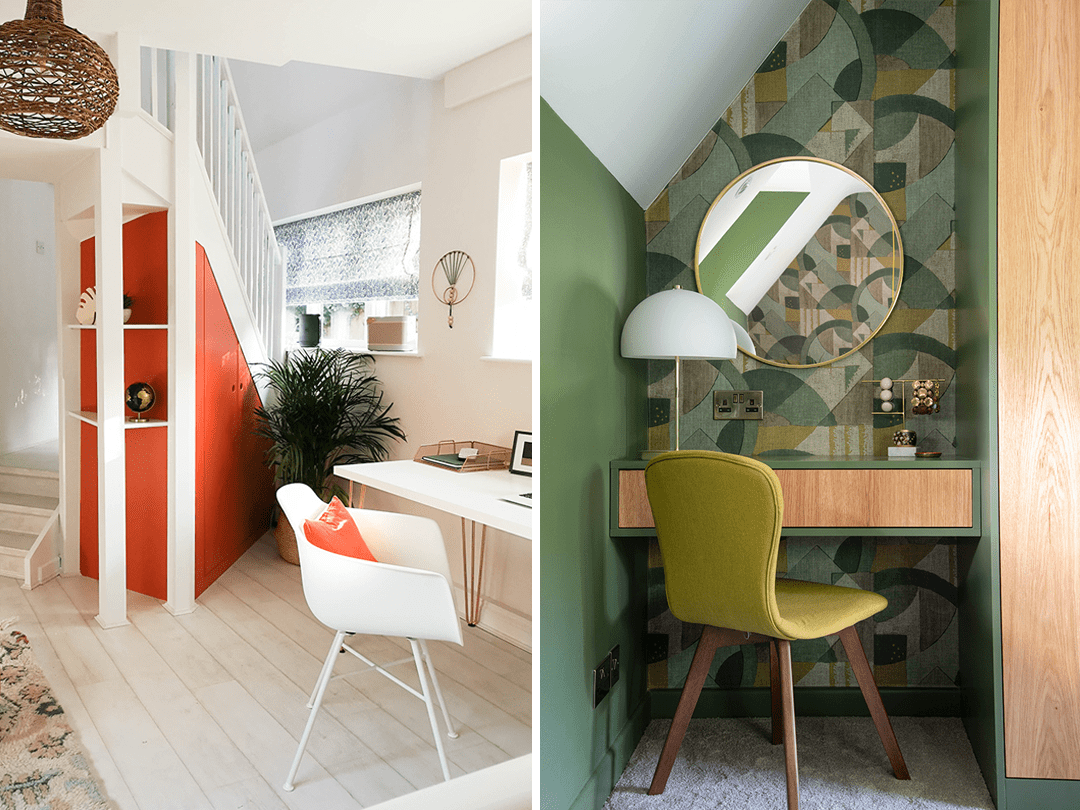 A cupboard under the stairs provides office storage, while a dressing table in the eaves makes best use of the low space
Custom cabinetry can transform awkward unusable spaces such as under the stairs or sloping ceilings, where an off-the-peg solution is simply not an option. A cleverly crafted build in this home-office space doesn't just provide a great place for hidden storage, it adds a bright, impactful feature to the room and offers up decorative shelving too. The built-in dressing table creates a super practical nook in what may otherwise be dead space for a sitting down function where ceiling height is not an issue.
2. Transformational layouts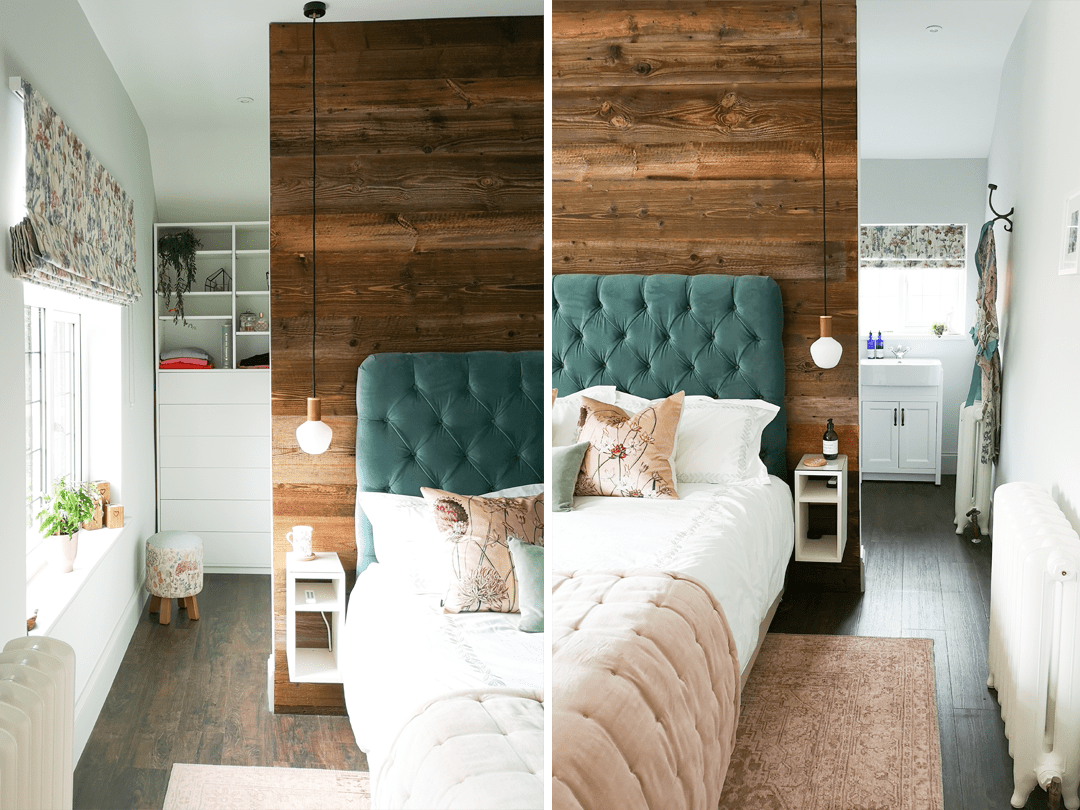 Drawers, shelves and sliding wardrobes sit behind custom panelling, with bespoke made-to-measure bedside tables
More than just cabinets, there are many custom features at play in this space. From the partition wall beautifully clad in wood reclaimed from Alpine barns, to the bespoke shelving and wardrobes that sit behind, and the narrow floating bedside tables, designed and made to perfectly fit the space. What was once a simple bedroom, is now a grand master suite and has the effect of feeling larger, calmer and altogether more practical.
3. Creating a better environment to work
Two home offices, both reflecting different personalites while being functional and efficient
Now that working from home is the new normal, a bit of custom design in your furniture is such a great opportunity to make your workspace truly yours, which you'd never get in a shared office space. Whether that's specifying cabinetry in bold bright colours, having cupboards that are designed to perfectly fit the ugly looking printer, building in a little extra seating or simply adding stylised shelving to create a perfectly Zoom-ready backdrop.
4. Having everything in it's place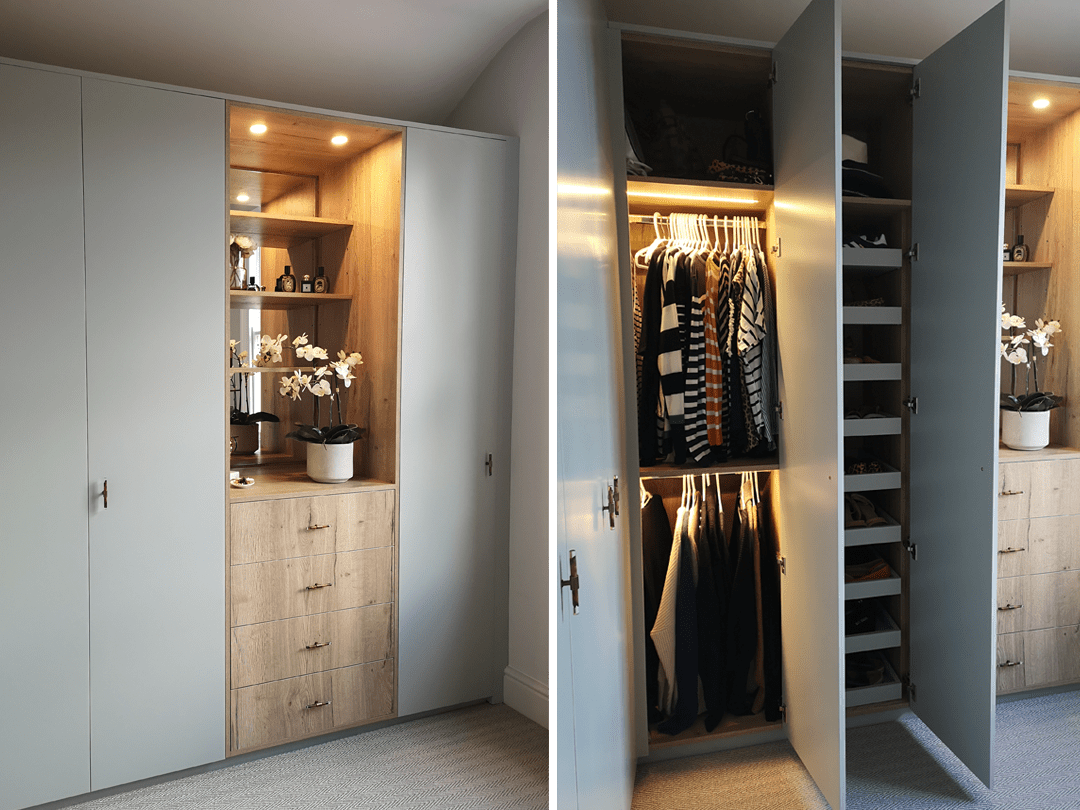 Bespoke wardobes for a dedicated dressing room space
A tidy home is a tidy mind. Isn't that the saying? When it comes to custom cabinetry, wardrobes and custom dressing rooms are the ultimate nirvana. They provide a perfect space for all your items, from variable height hanging spaces to pull out shoe shelves. From colour-matched finishes to bespoke handles. A custom wardrobe not only looks and functions beautifully, but makes best possible use of all available space.
5. A unique and personal touch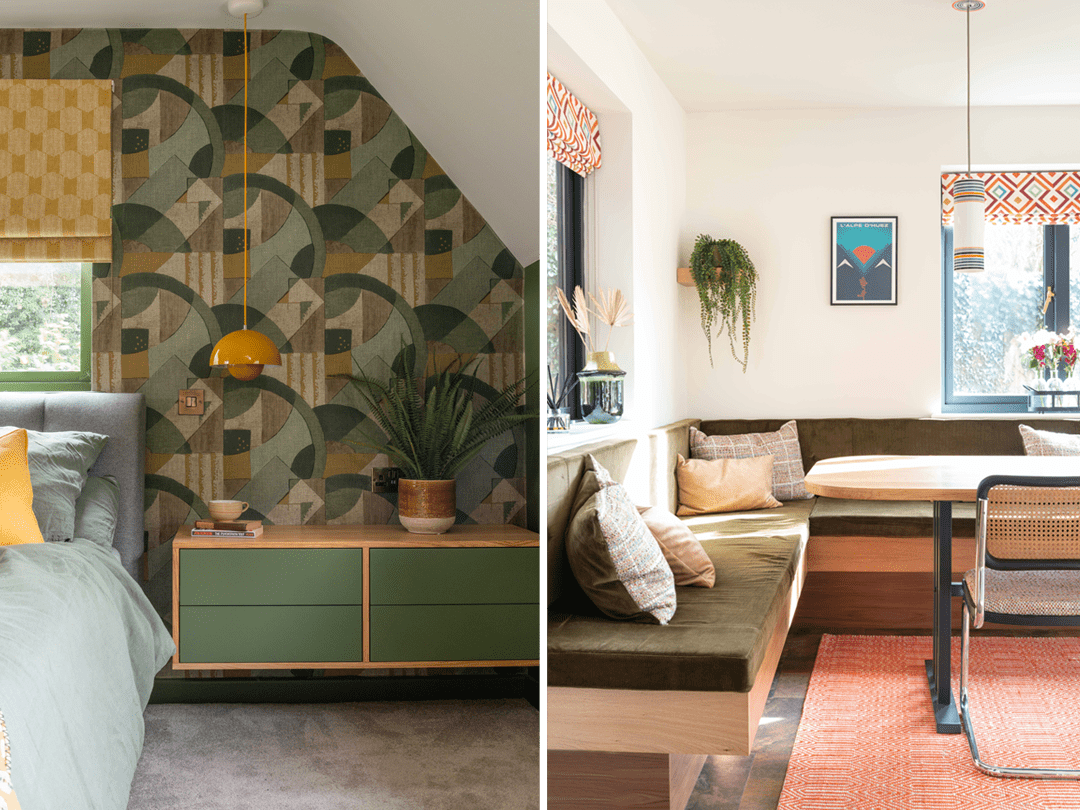 Mid-century style floating bedside tables and bespoke banquette seating
Bespoke, custom, tailor-made – whatever the word you use, what it always means is one-of-a-kind. Unique. Perhaps it's a floating bedside unit that echoes your mid-century style, or a super-sized banquette for social dining, or maybe, as we see here, a way to re-purpose your old oak worktop into the perfect made-to-measure dining table with the base sized exactly for getting in and out comfortably. Custom cabinetry is a sure-fire way to create a home that's uniquely yours.
There are no two-ways about it, custom cabinetry and furniture can make a home. Every one of these pieces has been designed and created by us here at No.54 and are just one aspect of our wider home design transformations. If you'd like to know more about how we can help you transform your spaces into a stylish, personalised home, please get in touch.