A slow and steady Interior Design renovation of a 70's original in Barnt Green, Worcestershire, with bespoke bookcases.
To truly design and personalise a space takes time, and we're firm believers that rooms should transform organically. Yes, you can make some major changes at the get go, but the finer, more personal details tend to present themselves when they're ready, and not when the room demands it. Here's a classic example.
We designed this space in a stunning 70's built home almost 2 years ago for our extremely bookish clients to relax, sans TV, and enjoy their extensive library, listen to music, play piano and entertain friends.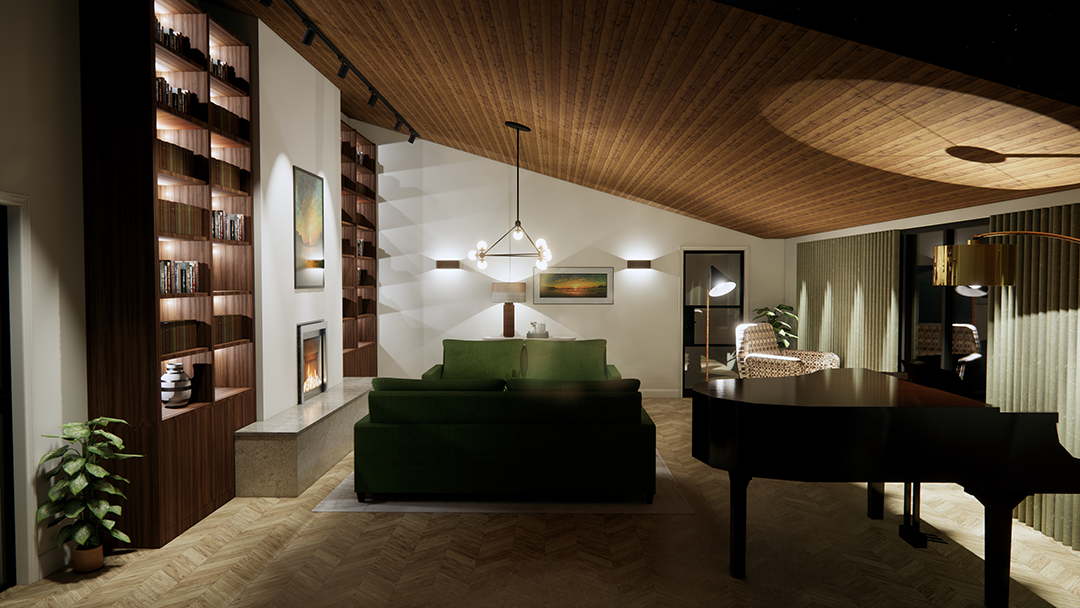 Interior Renders of the Conceptual Design
We focussed on getting the bones of the space right. Simple, unfussy and in-tune with the wonderful mid-century design of the building. The star(s) of the show, a pair of enormous bespoke bookcases, with library ladder and dedicated lighting.  Complemented by two elegant sofas, positioned for conversation, a bespoke lighting scheme, and a few choice furnishings to balance the space.  
Last October, after lights and electrics were relocated, new floors put down and walls painted, we installed the beautiful Walnut bookcases, which we'd designed and made in our workshop. At almost 4m tall, that's a lot of housing for books and some concealed storage underneath.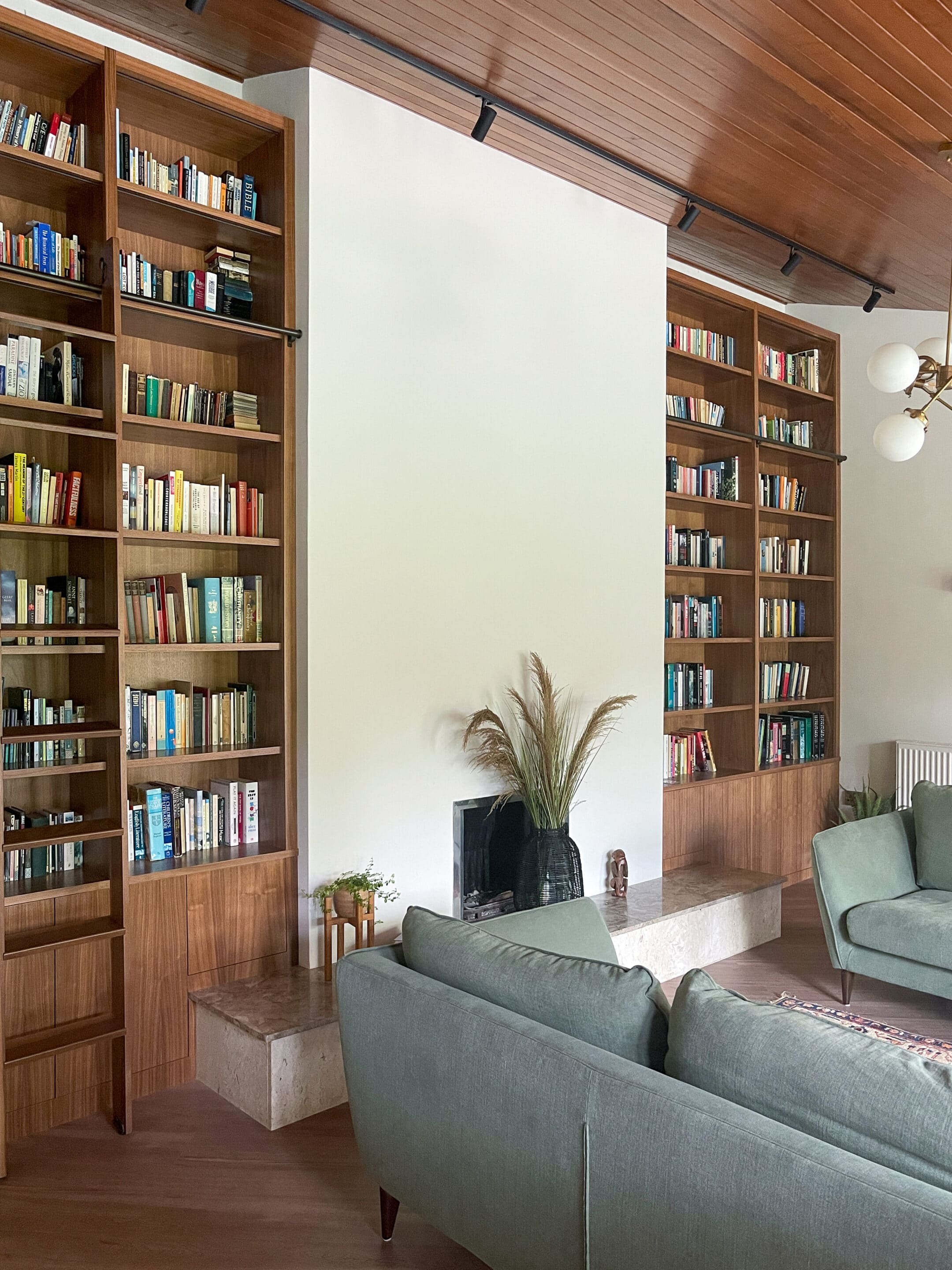 Bespoke bookcases in American Black Walnut veneer with solid Walnut Library Ladder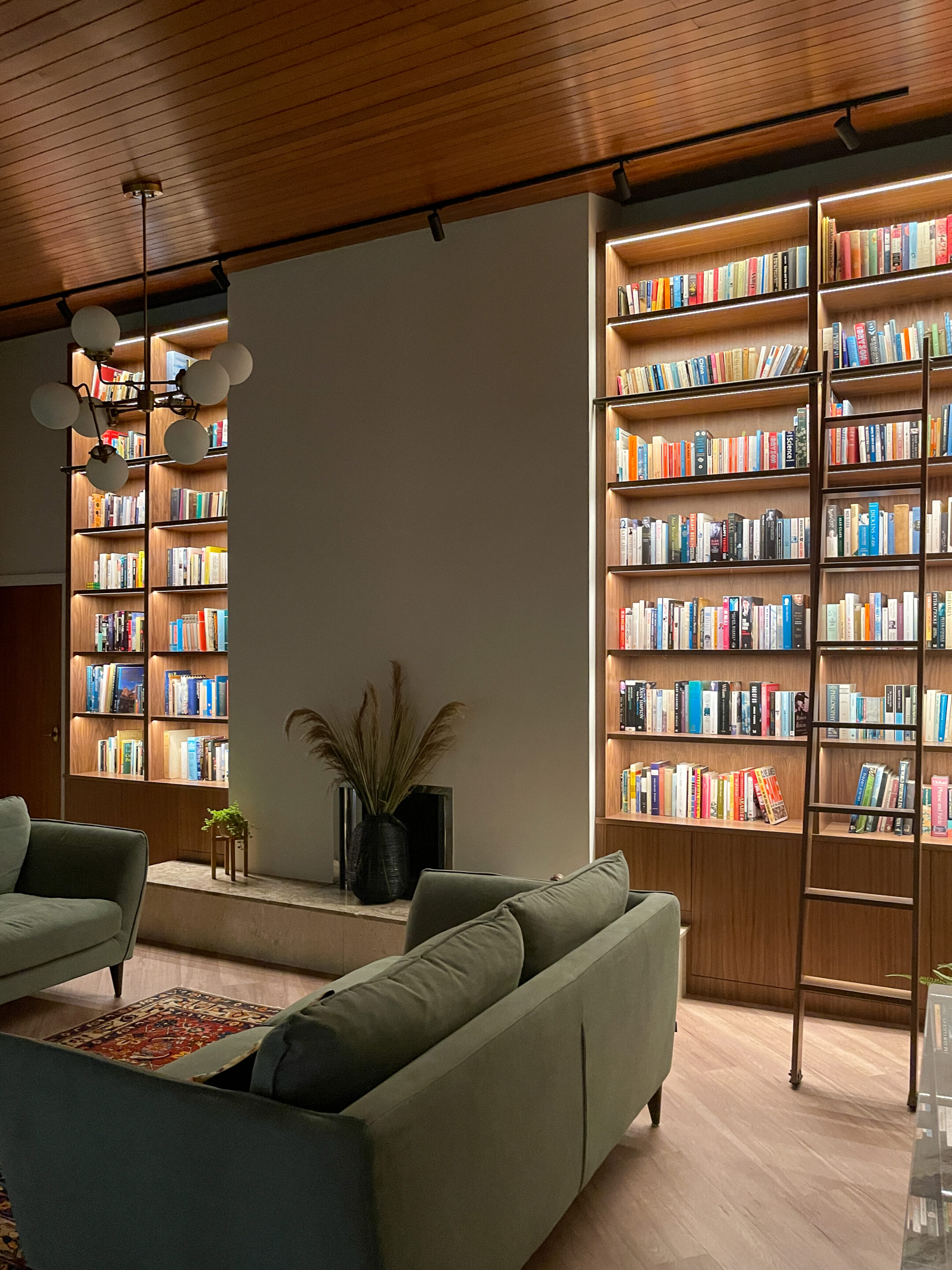 Integrated LED lighting highlights the books and creates wonderful ambient lighting.
Yesterday, a full 6 months on, we called in to see that sofa's had been delivered and our clients had spent hours arranging and rearranging their books. Even without the coffee table (which has become an on-going saga which we'll save for another day) it's looking absolutely fabulous and so befitting of the clients whose wonderful home this is.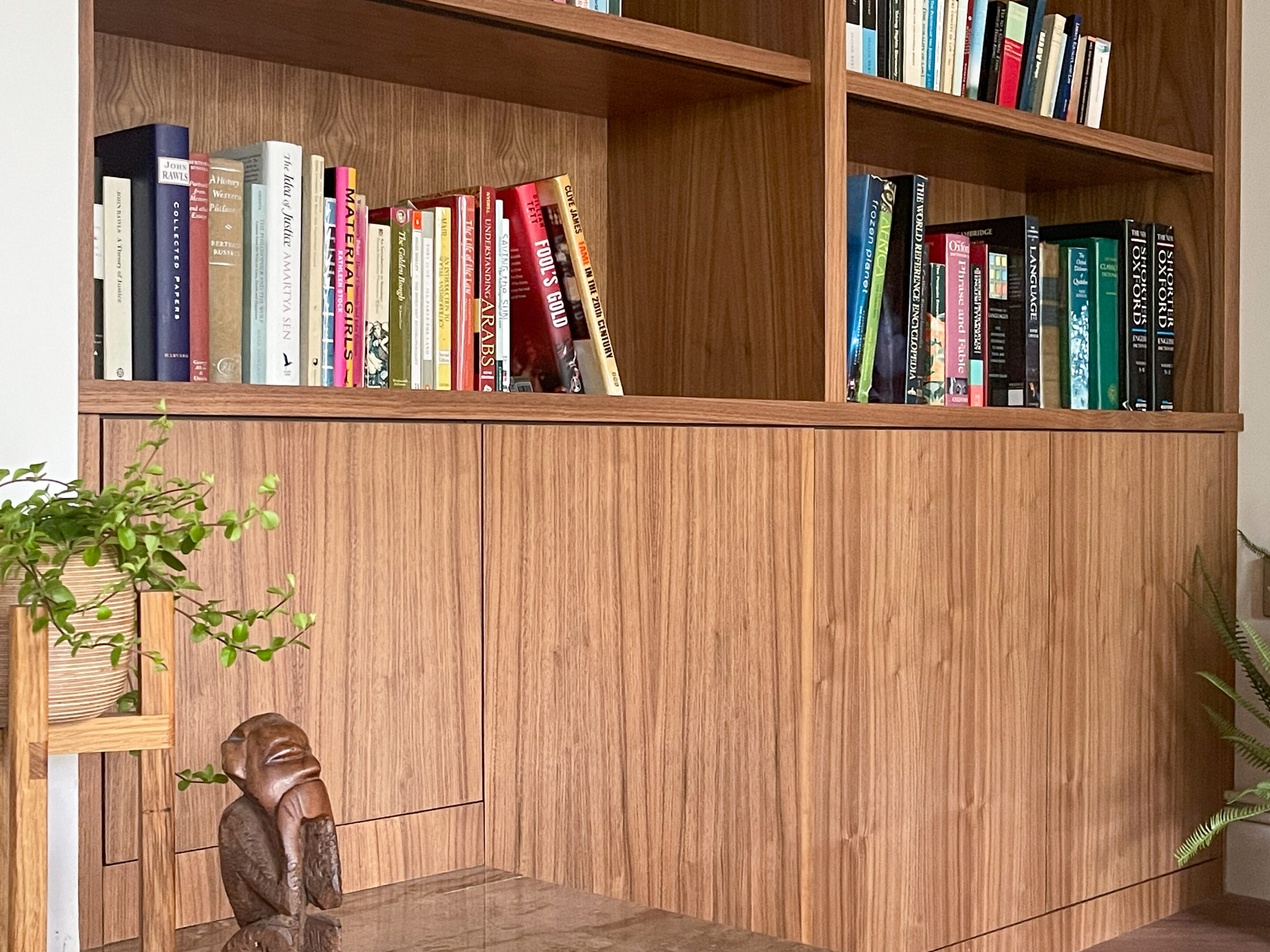 Concealed storage behind the beautiful Walnut grain. 
They're not impulsive, they're not showy, they have dogs who run riot, and busy lives going on around them. Getting as far as they have means that for the first time in over 20 years, they feel properly 'at home' (their words, not ours). Now they're able to relax and add the personal flourishes in their own good time, with or without our help.
A supersized artwork for the chimney breast is high on the list, maybe a mirror over the console, or a classic mid-century modern armchair for the vast picture window perhaps. Most likely spotted on their travels or after a lazy lunch and mooch of the shops. Ready when they are, not when design (or our photoshoot) dictates.
Bespoke Bookcases designed, made and installed by No.54 Interiors
Sofas from Lee Longlands
Central Ceiling Light from Inscape Designs on Etsy.
If you'd like to know more about how we can help you transform your spaces into a stylish, personalised home, please get in touch or take a look at our portfolio to see examples of completed projects.