All too often lighting is overlooked when designing interiors in favour of the more sexy stuff like furniture, wallpaper and fabric. Truth is, without great lighting, even the most wonderfully designed spaces can fall flat.
There are so many amazing products on the market now that our lighting options are virtually limitless, but it's fair to say, it's probably the area where home-owners get most confused.
Planning lighting schemes is one of our favourite things to do with our clients, so we wanted to share our top 5 lighting tips to get you thinking about your own lighting schemes.
Top 5 lighting tips
1. Think about how you use the space
There are three main types of lighting.
Task – specific lighting for specific tasks, for example, prepping food, reading a book or putting on make-up.
Ambient – generally the main source of lighting in a space. Ceiling lights or table lamps for example.
Decorative – Mostly there to look good or to highlight decorative features.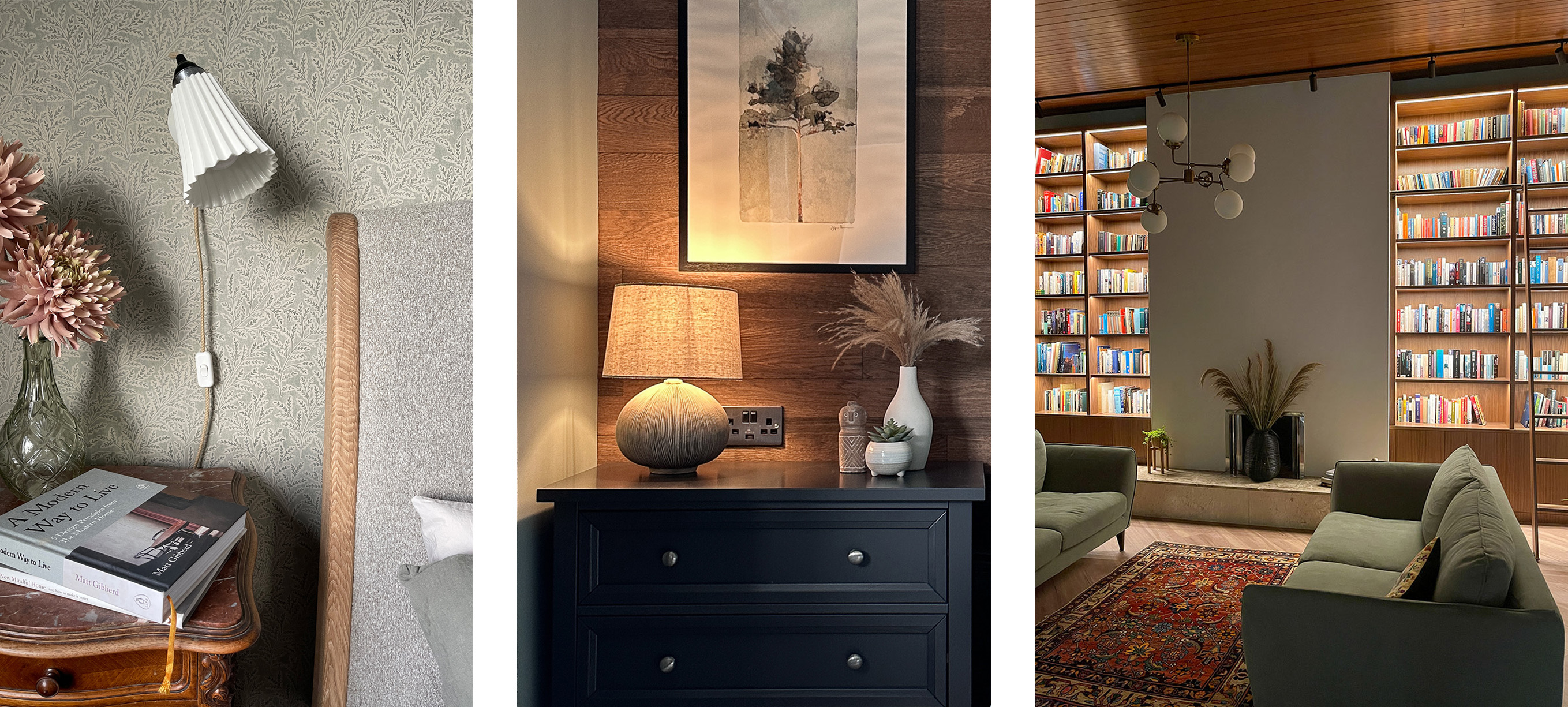 A bedside task light for reading, a simple lamp providing ambient lighting and decorative lighting in a bookcase to showcase the feature.
How and where you use these lights varies. So, before you even think about fixtures and fittings, take some time to sit in your room, or with your plans, and think about how you use the space.
Are you socialising, dining, cooking, watching TV, Exercising, studying, working, reading, relaxing in the bath? Chances are, you need different lighting for difference activities. Which leads us on to tip no. 2.
2. Light what needs to be lit (and not what doesn't)
In our opinion, there's nothing worse in a home setting than a blanket grid of ceiling downlights. We prefer to think about lighting what needs to be lit in a considered way that allows for pockets of light and shade, and adds to the mood of the space.
Try setting out your floor plan by drawing it out on a piece of paper. Add in where you have your key items of furniture, the practical features and specific decorative items – such as your favourite art.
Note where you perform key tasks, such as reading, working out, prepping food, eating dinner, like the example below.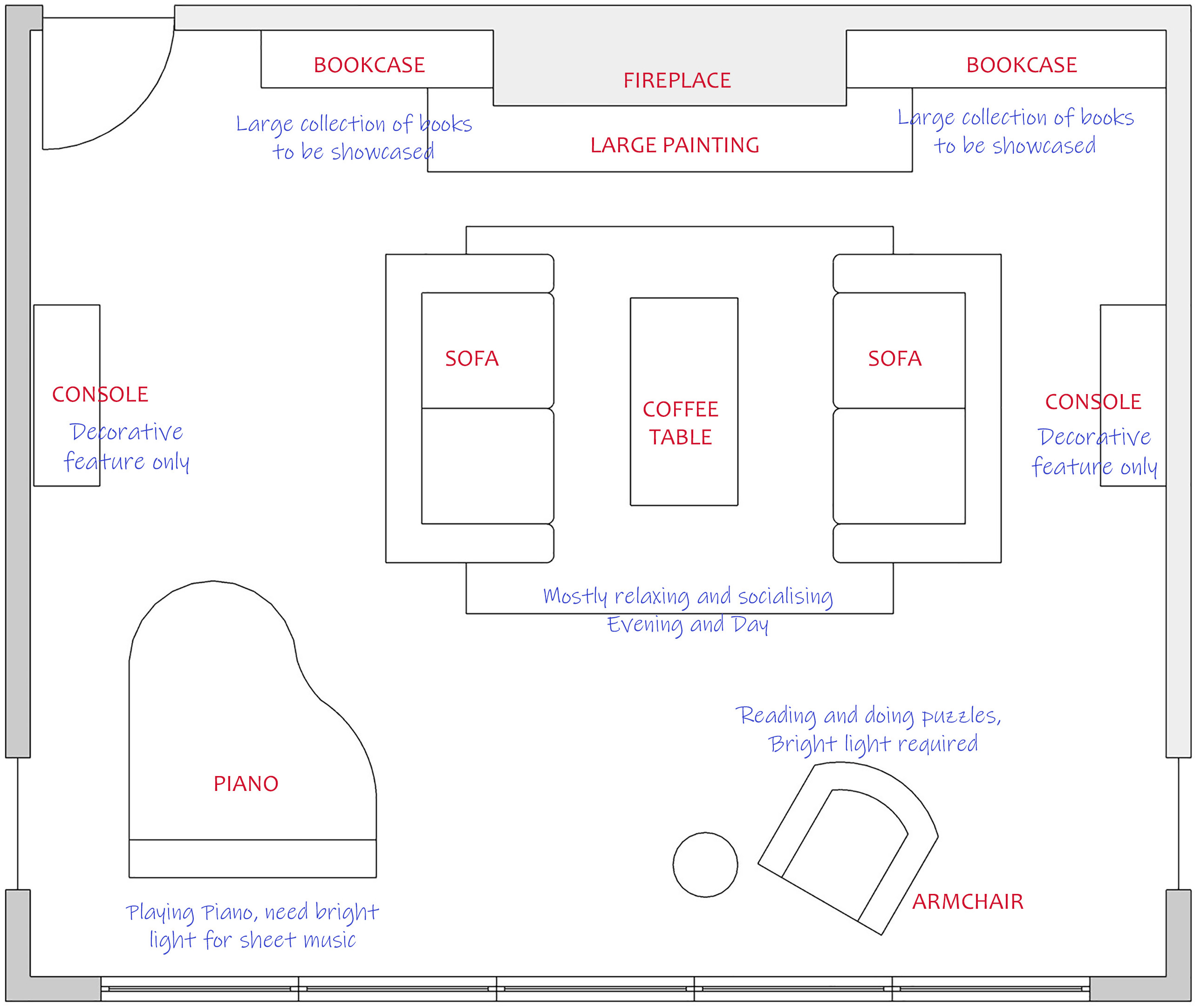 A floor plan with notations for furnishings and fixtures, plus activities in the room to inform the basis of a lighting plan.
You can then use this floor plan to determine what lights you need where and that your sockets and switches are in all the right places. This is obviously much easier when planning a room from scratch, but can be done with a retrofit lighting scheme if that's your only option (see tip No. 5).
3. Layer up your lighting
Us designers always talk about layers. Colours, materials, textures. And it's no different with your lighting. Layers of light add dimensional interest and give you flexibility to change the mood for different occasions, times of day or season.
Height. Consider the different heights for your light sources – floor lamps, table lamps, ceiling lights, wall lights and pendants all emit light from different heights in the room.
Switching. As much as possible, have the option to switch your lights on and off independently – so wall lights separate to ceiling. Spotlights under a kitchen shelf separate to the pendants. Reading lights separate to bedside lamps. Downlights separate to the mirror lights. Having the flexibility to control what's on and what's not is the easiest way to change the mood of a space.
Flexibility also comes from dimming – dialling the amount of light up and down from a light source. As much as possible, make this an option on all of your light sources. Almost all good LED bulbs come in a dimmable format now, although it pays to spend a little more for high quality dimmer switches.
Type. Diffused light, filtered through a shade such as glass or fabric, is great for ambient lighting. As is indirect light, where the light is reflected off a surface, such as a wall. Task lighting tends to be direct light – which as it says, specifically focusses a direct light onto a set area.
Colour temperature: In it's simplest terms, warm light – around 2700 Kelvin or less – gives off an orangey yellow glow, and cool light, 4000 Kelvin and above gives off a blueish tint. While a warm light is ideal for creating a cosy intimate environment, often tasks, such as reading and food prep are performed better under a brighter, cool light. Ultimately, in your home, it's mostly a case of personal preference.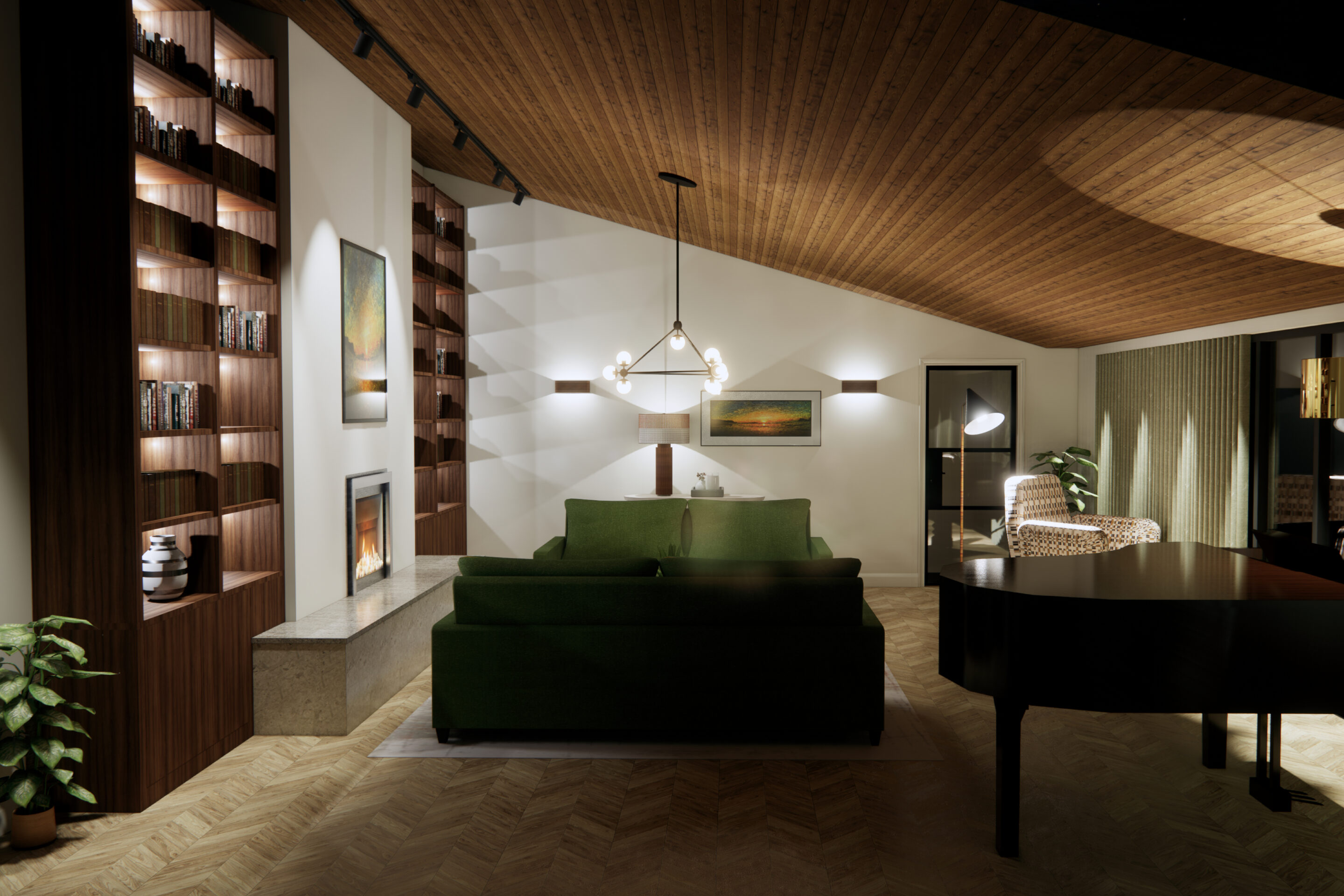 This render shows the different layers and types of lighting, including task, ambient and decorative lighting features.
4. Automate for mood settings
"Alexa, bedroom lights on" is a standard phrase in our house. The introduction of SMART bulbs and the number of everyday home hubs such as Amazon's Alexa, Google Nest or Phillips Hue are making the ability to automate lighting accessible to all. You can even have set sequences or groups to organise your light sources into specific moods.
For bigger budgets and greater sophistication, systems like Lutron can offer endless possibilities, and you can even connect blinds and curtains to truly embrace your circadian rhythm!
5. Retro-fit where you can (or need to)
Just because there's a ceiling light in the middle of the room doesn't mean that has to be where it stays without making tons of mess. There are many ways to add lighting to your scheme without bashing things about. Consider plug in wall lights with in-line switches, using hooks and flex to change the location of a ceiling pendant, or trying out the increasing number of rechargeable lamps which can literally be put literally anywhere, even outside!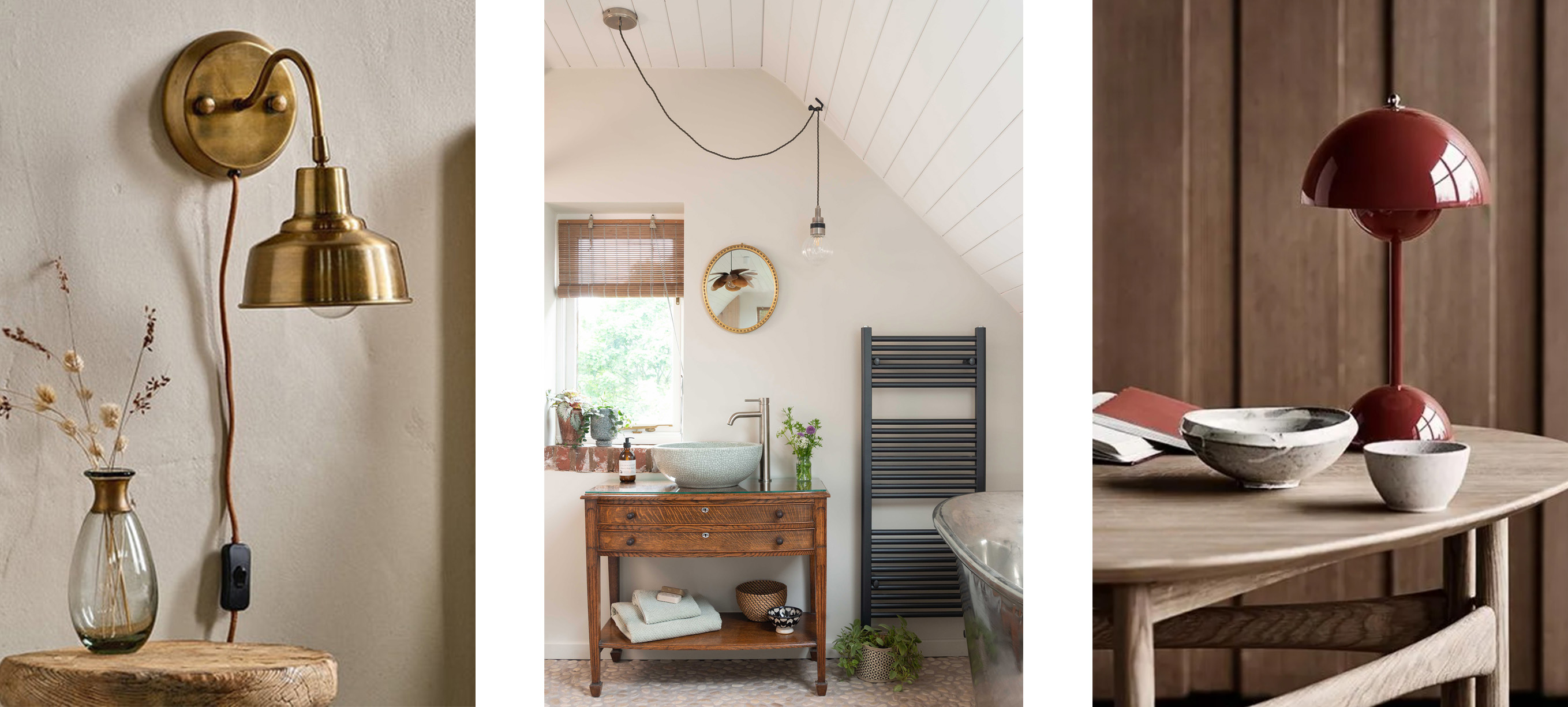 If you've enjoyed reading our Top 5 Lighting Tips and would like to know more about how we can help you with your own Interiors, click here.